Where Learning andGrowing Go Hand In Hand™
Every day, educators and researchers around the world are unlocking the mysteries of how the human brain learns, grows and develops. The wisdom that these landmark studies offer can often take years-or even decades-before they adapted to the school environment. And that is exactly what makes Juniorversity different.
Juniorversity, founded by Gwendolyn Crews, was founded to be unlike any other curriculum. Dr. Sabra Smith, who has a doctorate in education, along with numerous other educational degrees, discovered through her own personal research that existing teaching techniques do not appeal to the learning needs of every child, preventing some children from experiencing the wonder of learning.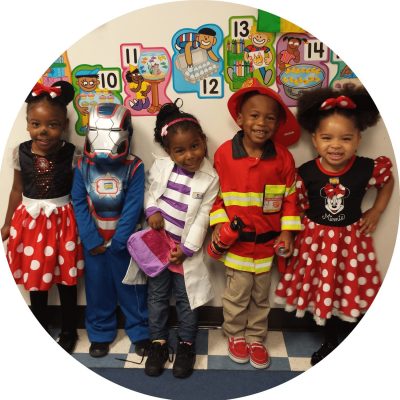 Dr. Smith has developed a program that uses a combination of visual, auditory and kinesthetic applications to create a learning environment that involves all of a child's senses and which, research has proven, leads to a more enriching and positive learning experience for every child.
It is findings such as this that we are continually incorporating into our curriculum, so that your child immediately can reap the rewards of these landmark studies. From using relaxation techniques to help children relax, which, by the way, has been determined to be an exceptionally effective non-medication-driven technique for ADD and ADHD children to early phonics immersion and positive self image reinforcement, we are using today's discoveries today.
All of this in an environment where your children are safe, nurtured, loved and encouraged.
Download these forms before your scheduled tour:
Where you choose to have your child spend his or her day is an important decision. To that end, Juniorversity is dedicated to helping you make an informed choice about your child's early education. We recommend starting your search by looking at facilities that are licensed and accredited. Accredited childcare programs have been evaluated by child development experts to ensure that the teachers and caregivers are loving and responsive; that they encourage and extend the children's developing language; that they encourage play and view their caregiving routines as an opportunity for learning and that the environment is enriching and positive, allowing children to learn through observation, exploration and stimulation.
At Juniorversity, our fundamental focus is to bring to fun everything we do. We work hard to ensure that our curriculum captures the imagination and attention of every child, from tiny infant through pre-teens. If you're looking for a nurturing start for your infant or toddler, preschooler or kindergartener or a hands-on, fun-filled after-school experience, Juniorversity is your resource.
No matter the age or the grade, Juniorversity ensures a childhood filled with enriching educational experiences.
Leave us a message. Fill out the form to contact a representative from Juniorversity